Home organization has become a trending topic as people have been spending more time at home over the last few months. From Marie Kondo to Amanda LeBlanc, we've learned that an organized home will make your life easier, more efficient, and more aesthetically pleasing.
While completely re-arranging every item in your pantry may seem like a daunting task, you'll be glad you did!
Here's our absolute favorite organization items and where you can find them:
Kitchen
If you have smaller drawers or are short on space, this utensils organizer is perfect for you! It comes in three different colors, and four different designs for different uses and utensils!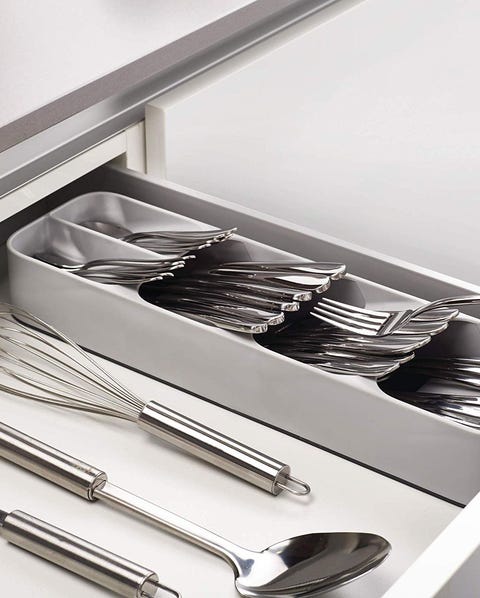 2. Keep baking sheets, pots (and lids!), pans, and other cookware in check with this expandable organizer—you can even order extra wires to tailor it to your kitchen.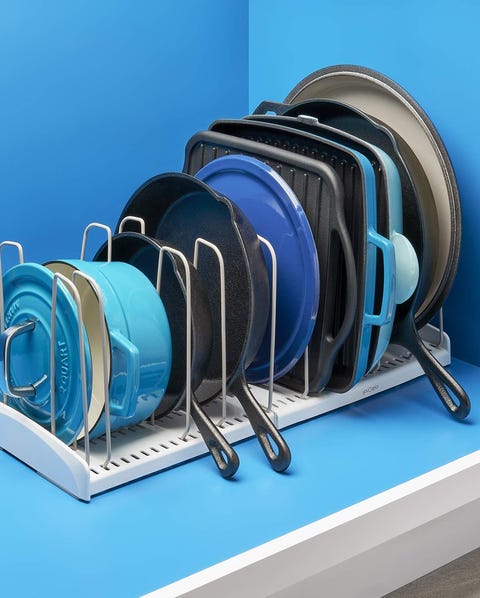 3. No more digging through your cabinets to find the blender in the back. This pull-out drawer makes it easy to get to your favorite small appliances in no time.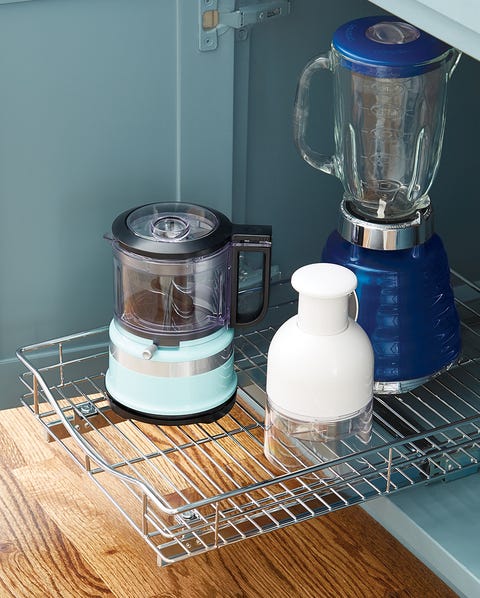 4. Revamp your pantry with these airtight bins—they're stackable, so you'll save space, they look a lot sleeker, and you can label them and see exactly what you need to refill at a glance.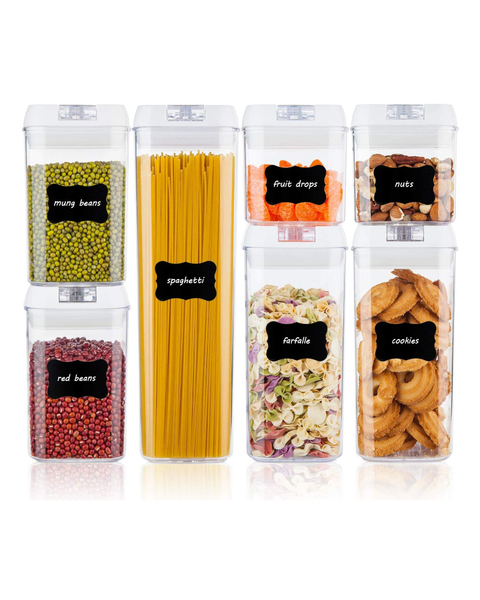 5. Keep all your kitchen wraps, from aluminum foil to parchment paper, neat and tidy with this adjustable organizer.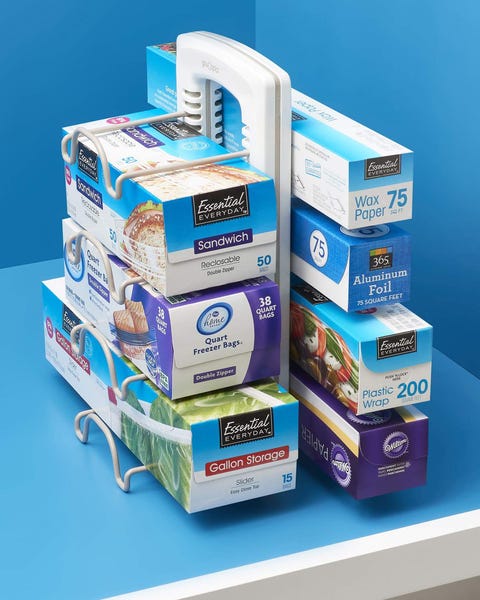 6. If you need a drying rack that doesn't take up space when not in use, this expandable option is perfect. It fits over your sink when you need it, and can expand to fit all your dishes (or stay small for just a few items.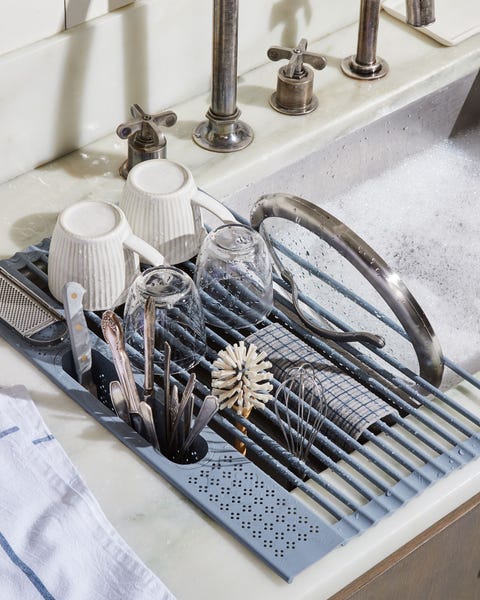 7. This little tray ensures that you'll always have the correctly-sized food container lid on-hand, in one ultra organized place.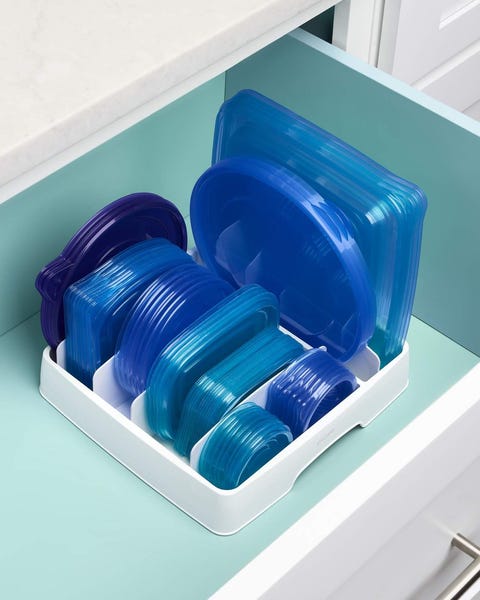 8. Keep all of your cleaning supplies in one easy-to-reach spot under the sink with these pull-out organizers that have room for all the essentials—all while fitting around any pipes.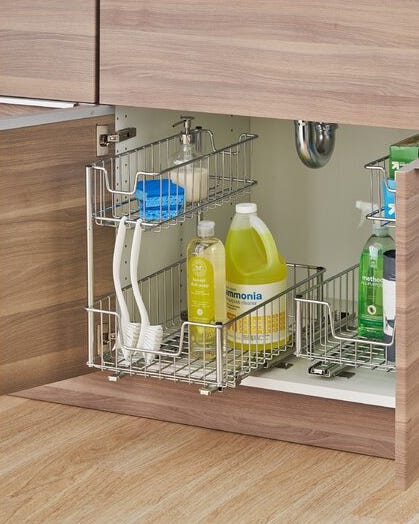 9. This skinny shelf system slides into any 4-inch-wide space under your counters, so you can turn an unused gap into a mini pantry.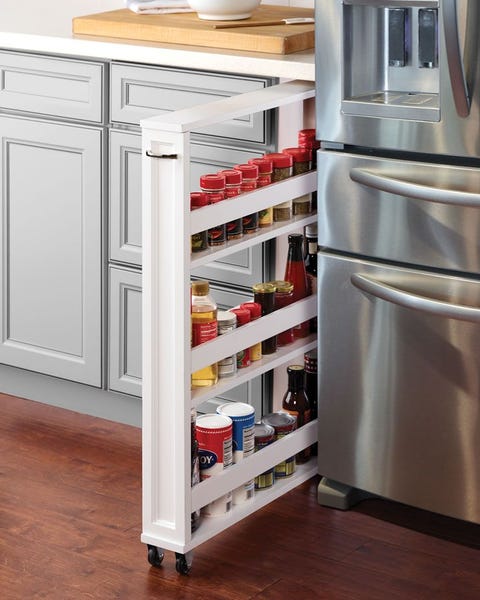 10. Need more space? A tiered turntable like this is exactly what you need to get your pantry organized, and it makes finding what you need a cinch.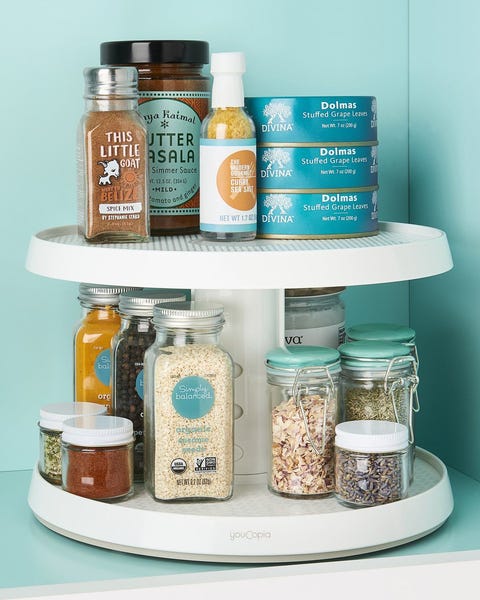 Bathroom
Combs, brushes, and toothpaste take up considerable space when laid horizontally on a shelf. Flat-backed, self-adhesive organizers placed on your mirror or on the back of a medicine cabinet door hold them more efficiently.
2. Gone are the days of scattered beauty products. Find your bathroom necessities a home with drawer dividers. Wooden boxes and trays add a chic element to your space while also helping to categorize the items. Dividers are available in various sizes and materials, so they can be mixed and matched to fit any sort of drawer.
3. It's much easier to hang up bath towels on a hook than it is to hang them on a towel bar. Plus, it allows the towel to dry better. Save the towel bars for hand towels and get some hooks for everyone to hang their towels on – preferably a different hook for each family member.
4. If shampoos, conditioners and other shower gear litter your shower, a shower organizer is one of the best bathroom organization hacks ever. There are plenty of great shower organizers that use suction cups to fasten them to your shower wall. Place your organizer roughly at eye level; you'll enjoy more room and your shower gear will be easy to locate.
5. If you need bathroom towel storage but don't have room or the budget to add furniture, try repurposing baskets as shelves! This is a cheap bathroom organization idea that's great for anyone organizing on a budget. Take your pick of baskets and storage bins, and transform them into shelves.
Bedroom
1.When it comes to how to organize your room, your drawers play a considerable role. Ideally, everything you see should be tidy up. If your bedroom space seems clutter-free, but the moment you pop open a drawer, it's complete chaos, all the serenity and peace will vanish. To avoid this, invest in some drawer organizers.
2. If you need a place to store extra blankets, clothing, shoes, etc a storage ottoman is the perfect place for you! It will add a decorative touch to your room and gives you a ton of extra storage. Place it at the end of your bed for a timeless look!
3. Customize your shoe storage to make the best use of your particular space. Shoes can be put on shelves, on the floor, or in cubbies. You can hang boots with pant hangers if you're low in floor space.
Custom shelving is the ultimate luxury in shoe storage, but a footwear cabinet is another ingenious solution.
4. Your pants eat a lot of space in your drawers, so try these awesome hangers! They can hold five pants and keep your them wrinkles free.
5. Make the most of your closet space by utilizing the back of your closet door. This jewelry organizer hooks onto the top of your wardrobe door, and lets you store tons of bits and bobbles in the most neat and organized way.
Garage
These heavy duty hooks will help you make the most of your garage storage space. These hooks are a great option for organizing hard-to-store items such as ladders, bikes, chains/ropes and even some power tools. The hooks have an anti-slip surface so items will be held firmly in place.
2.This adjustable overhead storage rack is a great option for storing bulky items such as camping gear, plastic bins and anything else that you don't want to get wet and don't need on an everyday basis. The racks can be adjusted from 22 inches to 40 inches, so you can customize them to the perfect height for your garage.
3. Keep all that sports equipment in one spot with this garage storage rack. It holds balls, helmets and even athletic shoes. It also has adjustable hooks to hold gloves, hats and clothing.
4. With adjustable shelves and a compact design making it great for space-challenged areas, this utility cabinet will greatly increase your usable garage storage space. Use it for storing tools, household supplies and outdoor gear. It measures 27 inches wide, 15 inches deep and 67 inches tall. Doors can be padlocked shut (lock not included).
5. This garage storage unit will allow you to keep your power tools neatly organized. The bottom compartment holds up to five handheld drills that hang upside down. It also has shelves for smaller items.